Even strong teams can benefit from team building exercises; they help to promote better teamwork and communication as well as boosting morale & productivity. Even with a full agenda all it takes is a 15-20 minute icebreaker activity to get your team motivated and ready for the day ahead. Are you planning a group event or meeting and want to get your participants off to a good start? Avoid the awkward silence and add an element of fun with one or more of these icebreaker activities for groups!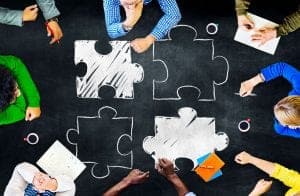 Human Bingo: 20 – 30 minutes
Just like the game you played with Grandma, but instead of numbers you need to find someone in the room who fits the description on your Bingo card.
Human Bingo is the perfect event to facilitate a large group of people breaking the ice and meeting one another. The event is set loosely on the game BINGO whereby each participant receives a piece of paper and a pen. Upon the paper is a table with 45 boxes – each box contains a descriptive statement that may match one, two or many people in the room. The goal of the participants is to roam the room and introduce themselves around to meet as many people as possible; each meeting the participants will assist the other with putting their name into one of the boxes. Each box may only be used once by each person. Each person can only appear once on a participants BINGO sheet ensuring delegates meet at least 45 people in the 30-minute time frame.
Once you complete all 45 boxes you yell BINGO at the top of your lungs and the game finishes with that winner on stage and the MC introducing some of the 45 people they met and the statements for each of them.
This is a fun and engaging way to get to know each other with fun and excitement rather than many of the 'get to know you' alternatives that can be awkward and lame. The Human Bingo will set the precedent at the beginning of the conference that meeting each other and communicating with suppliers, members and institute staff is encouraged throughout the conference.
Balloon Modelling: 15 minutes
This one's for the Clown enthusiasts! Teams must make the best balloon model that represents their team and come up with a sales pitch to present to the judges….in front of the entire group of course.
Foil Towers
Teams race against the clock to build the tallest tower using only foil. This is a much tougher task than it sounds!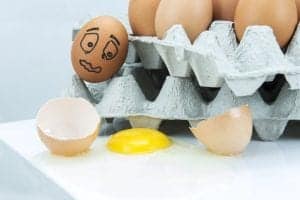 Focusing on teamwork, communication and leadership, teams must construct a basket that will catch an egg dropped from a height of 2m.
The challenge is to construct a mechanism that can catch and support a raw egg after it is dropped from a height of approximately 2 metres. In small groups, delegates use straws, sticky tape and ingenuity to create a capsule to keep Eddy safe.
A very simple, exciting and fun break activity that is guaranteed to liven the troops for the next session.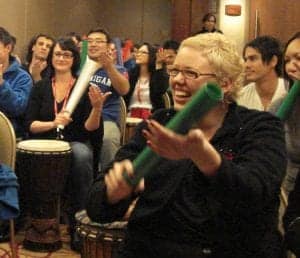 Visualise yourself amidst a sea of colour and rhythm! Delegates enter the conference room to be met by the sounds of drumming from the Human Rhythms team. As the surprised delegates take their seats they discover a musical tube in front of them and start to play.
Our vibrant, colourful musical tubes are the perfect instrument when only a short setup time is available. Imagine your delegates returning to find the conference room has been transformed into a sea of instrumental colour. This option is also great in a dinner setting or when time, budget or space is an issue.
F1 Rocket Racer: 40 – 60 minutes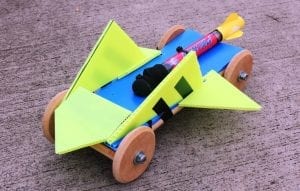 Do you have a competitive team who thrives on a challenge? Look no further, this event is for you!
This is a construction based event whereby each team is allocated a set of resources to build a Formula 1 race car. The car is designed around its power source – a rocket!
The rocket is a specially designed piece of equipment that will create a blast of power generated by a high pressure cycling foot pump. The result is a car that shoots out of the starting gates and hopefully beats your opponents by travelling the greatest distance along the conference room floor.
This is a great session where teams of approximately five people will design and build their very own car. All cars race with the winners of each round entering the finals and then finishing with the grand finale.