We have collated all the data for the 2017/2018 financial year and the results for the most popular team activities are in!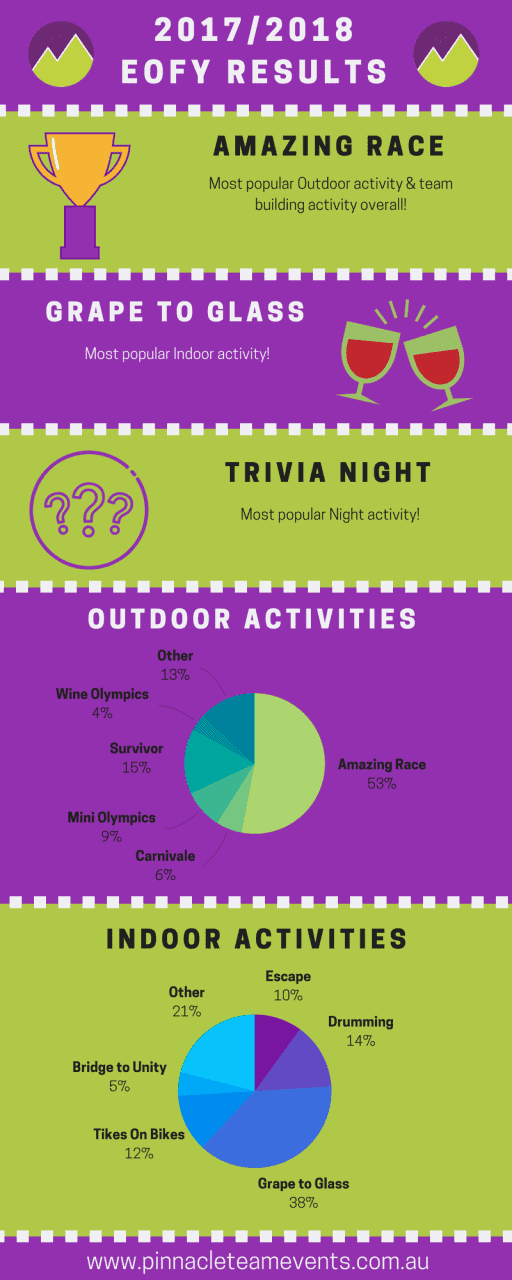 Most popular team activity overall/Most popular outdoor activity
The Amazing Race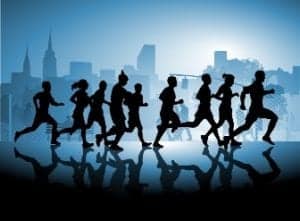 The Amazing Race TV show first graced our TV screens back in 2001 and our team building version is still just as popular as ever! The Amazing Race is great for groups of all sizes and physical abilities. Unlike the show, the winner of the Amazing Race is not the first team to reach the finish line. Instead, teams make their way to various road block activity sites where they compete in points-based challenges. The team with the most points at the end is the winner! The activity hones in on a teams' ability to communicate, problem solve and work together.
Most popular outdoor team activities
Amazing Race
Survivor
Mini Olympics
Carnivale
Wine Olympics
Most Popular indoor team activity
Grape to Glass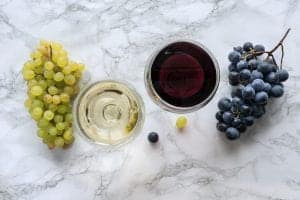 A team building activity & wine tasting all rolled into one? Yes please! It is no surprise that our Grape to Glass was the most popular team activity for indoor events. In this activity your group will be split into teams of approximately 8 people. On each table will be either three bottles of Red (Tempranillo, Cabernet & Shiraz) OR 3 bottles of White (Chardonnay, Semillon & Verdelho). Lead by your very own Hunter Valley winemaker, your group will be taken through a brief wine tasting & lesson on what goes into making a delicious blend of wine. Teams will then be given the task of not only blending the 3 wines in front of them to create the most ideal balance, but also designing their very own unique wine label and putting together a sales pitch which they will present in front of the group. The more original and entertaining the better! A bottle of the winning blend complete with winning label design will be distributed to every member of the group to drink as they wish post-event. A great team activity for groups wanting to show off their sales skills or creative side!
Most popular indoor team activities
Grape to Glass
Corporate Drumming
Tikes on Bikes
Escape
Bridge to Unity
Most popular night team activity
Trivia Night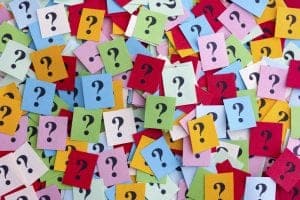 Not the average pub trivia you're probably used to! In between each round of questions (which can include general knowledge, themed questions or music trivia) each team volunteers a member to participate in crazy challenge activities which makes the evening super fun & very interactive. Example challenges include:
Bottle Flick – flick a ping-pong ball off the top of the bottle. Sounds easy, however most struggle…
Putt Putt – delegates put their golfing skills to the test with a little twist. Sink the putt and score the points!
Balloon Burst – Blow up a balloon, tie a knot in the end and burst the balloon between the knees.
Balloon Mascots – Teams are given modelling balloons and asked to design a mascot that best reflects their team. Points are given based on imagination and reasoning
Eddy the Egg – Teams construct a space capsule device out of straws and tape to catch a raw egg dropped from 2 metres
Foil Towers – Teams race against the clock to build the tallest tower using only foil
Most popular Night team activities
Trivia Challenge Night
Casino Night
CSI Night