It has been over a year (but feels like a decade) since the World Health Organisation declared Covid-19 a pandemic, and there is no denying that Coronavirus has significantly changed the way people work. Over half of working Australians are now doing so remotely and the line between home life and work is more blurred than ever. Keeping employees motivated and connected has always been of the highest priority for our clients, but now businesses have the added challenge operating in a 'virtual workplace'. This is where Pinnacle Team Events and virtual team building activities come into play!
Click here to learn more about virtual team building!
In this post we'll explain how virtual team building activities can be fun, easy, affordable AND have positive outcomes for your remote team. We'll also detail 10 of the most popular virtual team building activities – some that are facilitated by Pinnacle Team Events staff and others that you can do yourself – that could help bring you and your team closer together – online!
What is Virtual Team Building?
Virtual team building activities are just like regular team building activities, except you (the participants) aren't physically together. Instead, each member of your team is on their own device and joins in using zoom or similar video-conferencing tool.
Why Remote Teams Need Virtual Team Building Activities
Some of the most common challenges associated with working from home include:
Feeling lonely, isolated and disconnected from your work peers
Being unable to 'switch off' from work
Finding it difficult to stay on task and motivated
Feeling uncertain about productivity
The impact of loneliness and isolation should not be underestimated. Past research has found that it can be "twice as harmful to physical and mental health as obesity". As discussed in our blog post, Creating a Happier Workplace, employees that feel greater satisfaction and happiness at work tend to be more productive and engaged. This is where technology and Pinnacle Team Events comes in!
Benefits of Virtual Team Building Activities
The popularity of virtual team building activities in this new 'virtual workplace' setting  is no surprise as they are an easy, affordable  and fun solution to helping remote teams maintain their sense of connectedness.  Some of the key benefits of our virtual team building activities include:
Increased sense of motivation and belonging
Positive reinforcement for employees in the form of fun games that recognises their hard work
Reduces feelings of isolation and drives a sense of community
Improves company culture
Don't just take our word for it! Businesses from all different industries are gaining many positive results from virtual team building activities. See below for some recent testimonials from some of our valued clients:

Philips – "I cannot express it enough on how much I had fun with the The Go Game!! Thank you once again!!"
QBE – "Thank you so much for facilitating the Go Game on Friday, everyone enjoyed it and the feedback was great!"
NSW Business Managers Network – "Thank you both for the fabulous event last week. Feedback was wonderful. All the ladies enjoyed themselves and said it was such a relief to have some fun in their busy job life."
10 Virtual Team Building Activities for Your Remote Team
The Go Game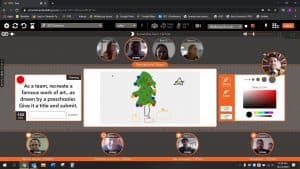 The Go Game is the most popular of all our virtual team building activities! It combines your favourite team games with an easy to use video conference. There are many challenges including Trivia, Pictionary, Drawing, Employee Fact Match and many more all facilitated by Pinnacle's entertaining host. The workshop has a duration of 45-60 minutes with the game best suited to groups from 10-25 people, however multiple games can be run to accommodate for larger groups. All you need to play is internet, headphones and a computer with a webcam.
Kahoot
Kahoot is a fun, easy, free to use program which makes it simple to create, share and play learning games or trivia quizzes in minutes. Kahoot can hold thousands of players in the one game making it inclusive to all. The duration of the game varies depending on the number of questions you create in the trivia. There are a range of existing trivia quizzes that can be accessed if you have no fixed ideas and are limited with time. To play the game you will need a conference account (Zoom, Meet, Webex, Teams etc) to allow for the questions to be displayed to all members however, the answers need to be sent through on another device. Kahoot is simple way to have a large amount of fun free of charge. 
Around the World
Our Around the World activity will take your team on a virtual globe-trotting trip around the world via our award winning app! Visit 22 countries across 60,000 virtual kilometres while putting your teamwork, collaboration and creativity to the test. On your journey you and your team will stopover in several different countries from Argentina to Brazil to China. Each destination requires your team to unlock tasks using image recognition technology. Once the task is completed you buy your ticket to your next destination with the points you have scored. The team who ventures the furthest with the most points will be crowned the winners!
Virtual Charades
Virtual Charades through Zoom is a basic game that translates easy to the online world. There are many online sites to lead the game; Charades idea generator chooses the words and phrases to be used or you can use Pantoparty which is a similar easy to use app.  Employees are split into two teams using one of the generators for their phrases. The person who is acting out the charade uses the spotlight feature on Zoom whilst their team has one minute to guess the phrases. This fun and interactive game is best suited to groups of less than 20 to keep all employers active and engaged. The games time limit varies depending on the group.
Beat the Buzzer Trivia
Beat the Buzzer trivia is the perfect option if you have a large contingent of employees with the event being able to host up to 1000 people for a duration of 45-60 minutes. The trivia is held on a conferencing platform such as Zoom in conjunction with Kahoot. This allows all players to play against each other in real time. A pinnacle host will lead the event, with participants responding to the Kahoot questions on their phones. Bonus points are awarded for the fastest correct responses submitted. The trivia is divided up into 3 rounds with round 1 being general knowledge, round 2 is entertainment and round 3 is image/video/audio based. This event is tailored to suit particular event themes and outcomes; therefore every event is varied to suit the client.
Drag Queen Bingo/Trivia
Pinnacle Team Events presents virtual Drag Queen Bingo/Trivia hosted by Timberlina! Come connect via Zoom or Teams for a virtual meeting like no other – a bejazzled night of fun, laughs and everything in between! This ferocious queen's eccentric style, naughty quick wit and dazzling diamond repertoire will have you in stitches on the floor and screaming for more. Choose between Drag Queen Bingo, Drag Queen Trivia or a mix of both! Each event usually consists of three rounds & can be tailored to suit your brief.
Remote Karaoke
Remote karaoke is a growing platform which brings together employees creating a sense of community cohesion within remote teams. The host of the game must have access to zoom and the online karaoke player, whilst all other employees need to access zoom. Once everyone is connected karaoke and the fun can begin. Remote karaoke is a great way to bring everyone together for a night of entertainment which can last for 30mins to hours. Karaoke can be as entertaining as you make it, so go wild and have a good time.
Online HonkyTonk
Online HonkyTonk is an online barn dance that will get your team moving together as one! Your online host will be dressed with hat, shirt and boots – guitar in hand and ready to teach you and your team line dancing. Your work from home team will learn the basics of line dancing as they dance and laugh together from the safety of their home office. This virtual event is designed for a team that like to dress up and have a good time. The perfect way to inject some fun
and energy into your virtual team drinks. So, grab a hat, put on your jeans and boots and join our HonkyTonk host for this Online Line Dancing show.
Heads Up
Heads Up is an easy to use free app that is a great way to keep a group entertained. This game is a classic word game where employees describe the word on the screen to the person holding the screen to their forehead. Each employee will have one minute to guess as many words as possible. This is a great way for a small group of employees to be able to work together and feel a sense of cohesion. The game must be played through Zoom and the person guessing the word needs to use the spotlight feature to allow everyone to see them. A mobile will be required to use the app.
Drawing workshop
The Drawing Workshop is slightly different from the others as there is no teams and employees are brought together through their shared experience of creativity. This workshop is versatile and can have group sizing's of 10 – 50+, with a duration of 60 minutes. Employees must bring along a pen, paper and photo of their home as the teacher virtually guides employees through the workbook with live demonstrations. As the finale all employees show their masterpieces to one another. This workshop is entertaining and engaging whilst remote teams are able to pay homage to their own homes.
Bring Your Remote Team Together Online
If your team of employees are needing a boost, it's been a while since you have done something together and you're feeling disconnected – give us a call! Our virtual team building activities of fun, interactive, engaging and (best of all) cost effective.
Choosing one of the above virtual team building activities can help to provide a sense of community by bringing everyone together for some fun and bonding in these challenging and unprecedented times. This can be as easy as choosing a free activity run by yourself or a with an engaging and professional host from Pinnacle Team Events!
Check out our Virtual Team Building Activities or enquire with us today!