Virtual Escape Room: Arctic Survival
About Virtual Escape Room: Arctic Survival
Midway through an arctic expedition your team becomes separated from your hiking guide. Cold, lost, disoriented and with a storm setting in, your only refuge is a small hut. Can your team solve the clues & crack the code to be rescued in time?

Using the items in the bag and objects around the hut, your job is to crack the code for the generator cupboard to get it up and running to power the radio, find the correct frequency for the Emergency Channel and finally, to work out your location so that the Rescue Team can send help. You have around 60 minutes before the hut is unreachable due to the heavy snowfall and high winds.

Our award-winning app features interactive game screens, teams will have to unpick evidence, unravel cryptic messages, and avoid the curve balls that will be thrown at them along the way. Teamwork and logic skills will be thoroughly tested in this virtual escape scenario.

Does your team have what it takes to ESCAPE in time?

Enquire Now Watch the video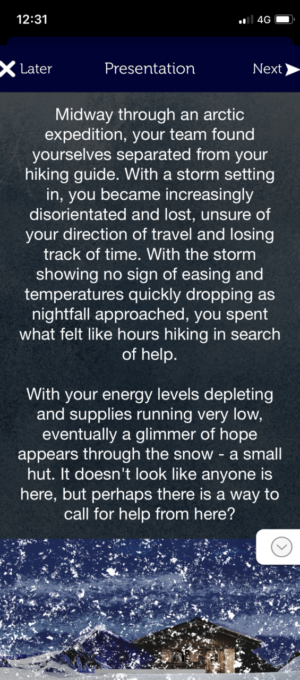 The Virtual Escape Room: Arctic Survival will see your delegates working together remotely via our award-winning app in teams of 4 – 6 people.

Each team works together to crack the codes and solve the puzzles that allow them to "escape the hut". The aim is to score as many points as possible in the given time, with extra points given for the first team to escape.

Everyone will be briefed on the activity by your Pinnacle facilitator and given the unique game code to enter in the app before joining breakout rooms with the rest of their team. Once in the breakout room, teams can communicate with each other to find clues and solve the problems required to escape!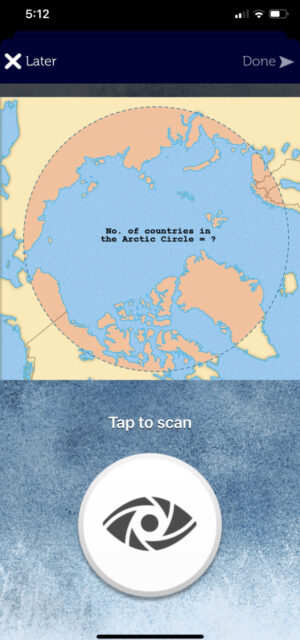 A Pinnacle host to introduce the event and provide a briefing
Clues from your host if necessary during the activity
Announcing the winners once everyone has escaped
Played in teams in virtual breakout rooms
Live scoreboard across the teams in the app
Frequently Asked Questions
This is a team event. Participants will be split into teams of between 4 and 6 people.
As teams are racing to be the first to escape, the finishing time varies for every group and depends on how well your team performs. The app allows teams up to 60 minutes to earn points and 'escape'.
The app is free to download and is available on both the Google Play Store and Apple App Store.