Make your next event memorable by selecting an experience where luxury meets the sea. By the pristine white sands of arguably the world's most beautiful port, give your delegates an event they'll cherish for years to come at Anchorage. Located half an hour from Newcastle airport or 2.5 hrs from Sydney, your guests can enjoy the finest cuisine in the region, breezy terraces and event spaces, and once-in-a-lifetime local experiences.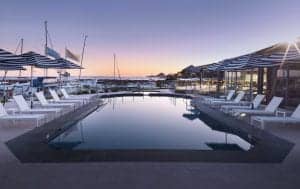 Conference Capacity: 160
Number of Accommodation Rooms: 80
Features: 2 Pools, Various Areas for team building activities, Private Marina
Testimonials:
"I wanted to say a huge THANK YOU  to you for the fabulous 2 day conference you pulled together for my team here at McDonald's. I am still receiving great feedback on the event.
I know many of my request were "out of the ordinary" as far as conferences go but you truly excelled & delivered.
Your attention to detail & execution on everything was amazing from organising the external suppliers (photo booth, Christmas decorations, Pinnacle Events) to liaising with our cocktail team – Sweet & Chilli, ensuring the catering was perfect (big thanks to Chef Michael too) even right down to the personal room drops I needed early on day one – you truly are an asset to The Anchorage.
Another person who deserves thanks is Anya – she was amazing and her hard work didn't go unnoticed.
I look forward to talking with you again soon for the team to come back in 2018 – I hope you will be there to work with us again."
McDonald's Australia, 2017
"I would like to extend my thanks to you both and the resort team as our group thoroughly enjoyed the stay, the service and accommodation. It is such a beautiful resort and a lovely place to have our leadership workshop.
The bottle of bubbles, cheese platters and card from Ali the GM in the room just added that final touch to a wonderful stay. The food was sensational, Day Spa exquisite and the conference room service was fabulous with Anya helping us on the day.
We enjoyed it so much so that the team who hadn't stayed at the resort will be visiting soon with their families and we will look to make the workshop an annual event and hopefully stay an extra night the next time".
Contact Mitchell or Kristie at the Anchorage to discuss your next conference:
Website
Email: Mitchell or Kristie
Phone: 02 4984 2555