It's hard to believe it is that time of year already – organising and getting some work Christmas party ideas! Whether it's in-person or virtual; what better way to celebrate Christmas (and the end of lockdown) than getting together with your colleagues for some fun & friendly team building activities. If you want to organise an end of year work party that is:
Memorable & unique
Fun & inclusive
COVID-19 Safe
And has colleagues talking about for years to come
Then you have come to the right place! We have put together a list of our best work Christmas party ideas to help get you organising.

Work Christmas Party Ideas – Live Events
After 18 uncertain months of working from home & not being able to interact with colleagues we are so excited to be booking in some covid safe, in-person end of year events. We are already filling up with bookings on Fridays in December so get in quick to secure your event spot! See below for 4 of our favourite Live event ideas for your 2021 work Christmas party:
What could be more exciting than cruising around Sydney Harbour in your very own water taxi? Our Water Taxi Treasure Hunt explores the best sights of this world-famous location. Teams navigate their water taxi to various 'checkpoints' hidden around beautiful Sydney Harbour where they must compete in a series of team challenges.

An action-packed adventure around your local area! You choose the location including the start & finish locations & we will design the race to suit. Although it is 'race' by name, teams don't need to run between activity 'check-points' as the winners are determined by the number of points they earn at each challenge – not how quickly they finish. As well as completing challenges teams will need to collect a number of scavenger items & complete photo missions for bonus points.

Experience the thrill & excitement of shooting clay pigeons as they fly through the air! A great activity for males and females of all ages, fitness levels and ability. Teams have the opportunity to chat & have a drink in-between each turn if they like. Usually, this event will be structured with a team's competition for the first hour followed by an individual shootout at the end.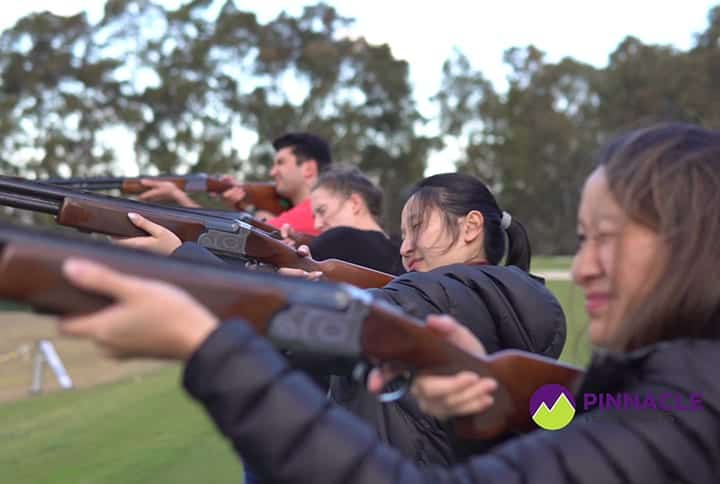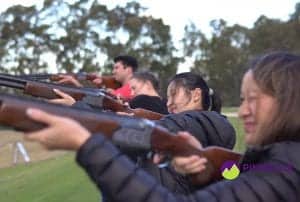 Not your average pub trivia! Between each round of trivia questions teams will compete in a series of hilarious team & individual challenges. We'll fit in with your agenda & theme for the evening & can tailor the questions to suit. We usually host a mixture of music trivia, movie, and TV sound tracks as well as IQ/Brainteasers. There is something for everyone at our Trivia Night!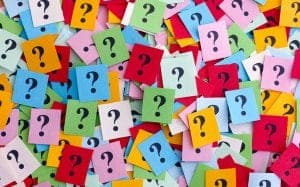 Virtual Events Work Christmas Party Ideas
If your team are spread across state borders or not able to get together just yet for any reason, have no fear – our Virtual Team Building events are here to stay! If you're after an online Christmas party event that is fun, engaging & interactive then we have a solution (or four) for you!
Celebrate the end of the work year with a holiday themed Go Game! If you've experienced our Go Game before you will know how hilarious & exciting it is. Hosted on its own slick video conferencing interface, with giphy challenges, Pictionary, fact matches & more – your remote team will have a great time celebrating the end of the year together (virtually)!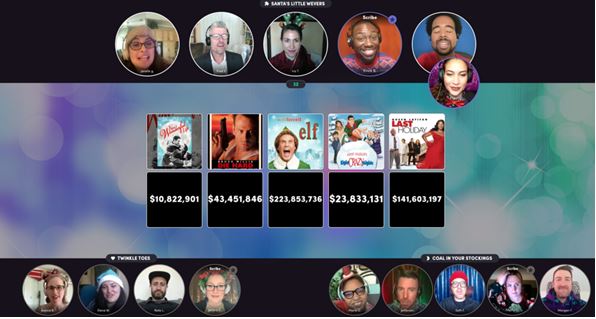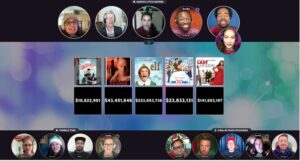 Christmas themed Beat the Buzzer Trivia! Bring your virtual team together for some trivia in conjunction with Kahoot! Your Pinnacle Trivia host will lead the event from start to finish. Participants compete as individuals seeing the questions appear on their computer screen (Zoom or MS Teams) and submit their answers on their phone (Kahoot!). Questions are multiple choice and there are bonus points awarded for the fastest correct responses.

Although lockdown is starting to ease around Australia we are still yet to see international travel open. We've got the next best thing to an overseas holiday these Christmas holidays with our Around the World virtual event. Take your team on a virtual globe-trotting trip around the world, visiting 22 countries across 60,000 virtual kilometres while putting your teamwork, collaboration and creativity to the test! And all through our award-winning app!

Grab a drink and bejazzle your heels for a night of fun, laughs & everything in between! You may have played bingo before but not like this… Our ferocious queen's eccentric style, naughty quick wit and dazzling Diamond repertoire will have you in stitches on the floor screaming for more. For a festive night of Christmassy naughty or nice fun with bingo, singing & dancing – Drag Queen Bingo will not let you down!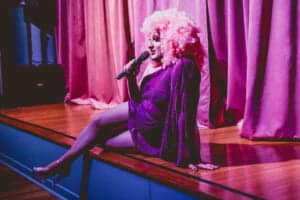 To view our 100+ range of team building events visit our website.
If you'd like to speak to our friendly staff about your upcoming end of year work Christmas party, send us an enquiry & we will contact you today.