If you've ever wondered what makes a Pinnacle Team Events facilitator tick then you have come to the right place! Each month we will be taking 5 minutes to chat with each of our facilitators about their lives both inside and outside of work.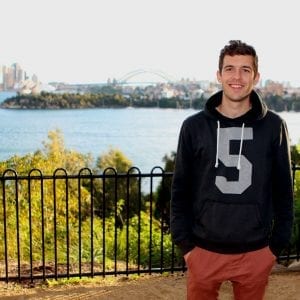 What I love about being a Pinnacle Facilitator:
I love how the job is basically to have fun. If you're having fun, so are the delegates and you get to meet interesting people too.
My favourite Pinnacle team event to facilitate:
So far it would have to be the Casino Night, the delegates really have a good time gambling with fake money.
Most embarrassing moment as a Pinnacle facilitator:
Nothing so far, I'm sure one can't be too far away.
My favourite hobbies are:
Playing or watching any kind of sport.
Band I'm listening to at the moment/podcast recommendation:
I'm listening to Drake and the Hamish and Andy podcast pretty religiously at the moment.
What was the last book you read?:
I re-read my favourite book as a teenager, "Hovercar Racer".
Favourite holiday?:
I'm pretty partial to skiing in Japan, but I went on a 5 week long motorbike road-trip around the USA and Canada last year and that is the most epic thing I've ever done.
Have you ever had a nickname?:
Plenty, but Sammy and Welbie are the most common.
I am frightened by _____ :
Bears, the one dangerous animal we don't have in Australia.
Favourite movie of all time:
It's a tie between Ferris Bueller's Day Off and Groundhog Day.
First concert I went to:
Bombay Bicycle Club.
If you could live anywhere, where would it be?:
Newcastle/ Hunter Valley are about as good as it gets I reckon.
What makes you angry:
People who sit in the right lane and people who slow down to 10km/h under the speed limit for speed cameras.
What makes you laugh the most:
Fart jokes probably, just can't help myself
What song would you sing at karaoke night?:
Party in the USA – Miley Cyrus.