About Team Masterpiece
Bring your conference themes, company values or mission statement to life in this creative event. Working with a professional artist, teams discover the tricks of the trade as they discover their creative potential whilst linking to pre-determined themes. How? By turning ideas and thoughts around your business into a team masterpiece that they never thought possible!

Many people feel they don't have a creative bone in their body – yet up to the age of 9 or 10 we all loved to create!

Working with a professional artist, teams discover the tricks of the trade as they smash through negative barriers and mindsets and discover their creative potential.

Enquire Now
Key Facts

The Team Masterpiece team building event will see your delegates divided into teams of approximately 6 people per team.

All participants regardless of ability will paint and are involved in every step of the art building process – brainstorming, drawing and abstracting ideas, designing the image and painting the masterpiece!

The Team Masterpiece facilitator is a professional artist who works in both the creative and corporate world.

There is no winning team in the Team Masterpiece activity. Instead, all teams are working as 'one team' – together towards a common goal. The whole group goal is achieved when all of your delegates creations are joined together to create one complete piece of art.

Often this event is tailored to suit conference themes and outcomes relating to working as one team, common goal, big picture & breaking down silos.

We require a large, indoor space for this activity with trestle tables.

Art team building is completely mess free for the venue and the participants.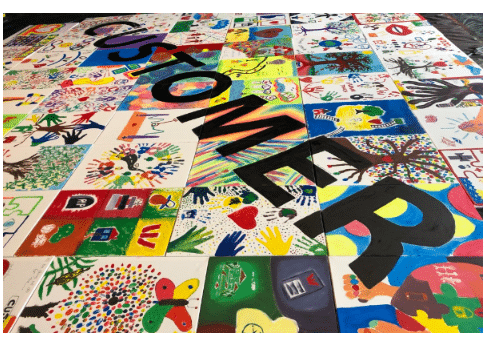 Inclusions
2 – 3 hours
A Pinnacle host / MC & assistant Pinnacle facilitators to run the event
All facilitation and equipment required
$20 million Public Liability insurance
Frequently Asked Questions
"We enjoyed 3 events facilitated by Pinnacle Team Events. Trivia Evening, Stretching Guy and Team Masterpiece Class. Each event was excellent and worked well for our overall conference theme and 'feel'. Each event was specific to our needs and provided a sense of team throughout.
Thank you very much!!"

Australian Health Management