Earlier in 2017 my partner and I travelled to the Northern Territory for two weeks of road tripping with another couple. We hired a 4wd from Darwin and set our sights a few thousand kilometres away in The Kimberley, along the rough and spectacular Gibb River Road.
I had never been further north than the Sunshine Coast nor further west than Moree. I don't think I was alone having not travelled much in my native country and when I arrived in Darwin it felt like I had left Australia and was in another place. Perhaps it was because of the time taken to get to Darwin or maybe because of the extreme difference in heat and humidity. Darwin itself is a thriving, relaxed low-rise city. The coastline is basically all beautiful green space that overlooks turquoise water and offers a relieving cool breeze. This is where we spent our first evening sitting on a picnic rug sipping beers and watching the sunset. Sadly, we could not venture into the inviting water for a dip for fear of saltwater crocodiles.
Our road trip first took us south to the Litchfield National Park and to the small town of Adelaide River. Both were great icons of Australian bush and hospitality as we swam in water holes and camped at a farm station. Adelaide River has a surprising history as a World War 2 airfield and we joined thousands of people from all over the NT who gathered there for ANZAC Day.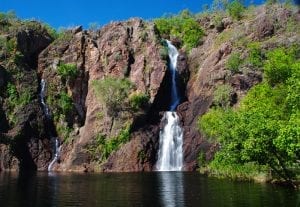 We then headed south and west, for about 15 hours to the junction town of Kununurra. Here is one on of the best Aboriginal Art Galleries in the country and we spent many hours looking through amazing paintings from local artists. The landscape that surrounds Kununurra is nothing like I have ever seen, particularly on the east coast of Australia, or "where the sun comes up" as a few locals referred to it as.
We ventured south to the Purnululu National Park and started an overnight hike through the most amazing rock and valley formations that I have ever seen or imagined, called the Bungle Bungles. We walked for six hours into a valley that was created entirely from bee-hive like sandstone mounds that swept up the valley walls for hundreds of meters and filled your view in every direction. The whole time we walked, we saw no other people and camped on the sand next to a waterhole where it seemed as though you could see every star in the sky. I don't think I have ever been somewhere quite so remote, so wild or so spectacular.
We reached the Gibb River Road 9 days after leaving Darwin (a few of those days filled with simply driving!) and enjoyed four relaxing days at an enormous station called El Questro. This station is used in the wet season as a working farm with thousands of cattle and as a tourist hub in the dry. We were lucky enough to arrive not long after the rain had subsided and so enjoyed many beautiful waterfalls amidst red rock valleys. There are also a number of running rivers where we tried our best to catch Barramundi – with no luck. The scenery was incredible and totally foreign to the Australian landscape familiar to me. I cannot wait to go back!