Can you imagine anything more relaxing than spending two weeks travelling the Greek Islands?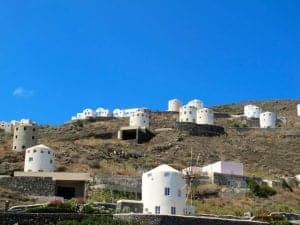 We arrived to Athens late in the evening & made our way to our Airbnb in the main tourist area of Plaka. Here we spent two very hot Summer days & nights roaming the ancient streets and checking out the Acropolis & Parthenon. There are plenty of shops, restaurants & rooftop bars with beautiful views of the vast city. One of the bars with the best view would have to be Point A.
From Athens, we made our way by plane to the beautiful island of Milos. Here we stayed in Pollonia and spent our days exploring the many cliff jumps and swimming spots hidden around the coastline. I had never seen water as crystal clear in my life! We jumped on a boat tour around the island and loved every minute of it.
From Milos we hopped on a ferry to the Island of Ios. Ios was full of Australians and is known for it's raging nightlife. After three nights of Espresso Martinis & Mythos Beer we were very happy to arrive to the beautiful island of Santorini. In Santorini we stayed in Firostefani which was perfect for restaurants and a view of the famous sunset. The best way to explore the island is by scooter or quad-bike. There are various beaches to visit – black beach, red beach, Kamari beach. However the best swimming spot in all of Santorini would have to be off the rocks at the base of the cliffs of Oia at Amouddi Bay. Another must see is a visit to Santo Wines, a beautiful winery perched at the top of the cliff overlooking the sea. Taste a dozen of their delicious wines paired with some typical Greek antipasto – YUM!