October is almost over and the air-conditioning wars have well & truly commenced throughout offices around Australia! Christmas holidays aren't too far away which means the end of year deadlines are even closer – including the office Christmas party!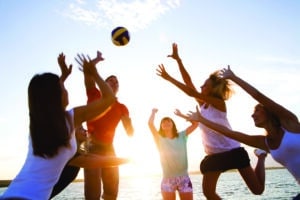 It is at this time of year when we become inundated with enquiries from corporate groups organising either an end of year event OR an activity to kick start the New Year. With some dates in November & December already sold out for events, if you're interested in booking a team activity this Summer then now is the time to get busy organising!
Summer is a great time for team building, with the longer, warm, generally rain-free days great for outdoor activities & the buzz in the air for night activities. And of course, if being out in the sun isn't your thing you can always opt for staying inside in the comfort of the A/C!
See below for our top team building ideas for Summer:
Is there anywhere you'd rather be in Summer than on one of our beautiful stretches of coastline along the East coast? And did we mention you're benefiting your team culture at the same time? We are absolutely spoiled for choice when it comes to Australian beaches & they are the perfect location for a team activity. Our Beach Olympics is fun & competitive without being too overly physical. Great for groups wanting to escape the indoors & enjoy the spoils of Summer weather.
Want to REALLY spoil your team this Summer? Picture this… spending your next team outing cruising the beautiful Sydney Harbour on your very own water taxi! The best part, this activity can be easily justified to the boss as your team will be competing in a series of fun, mildly physical, lateral thinking/problem solving team challenges all whilst enjoying the sights of Australia's most famous Harbour.
One of the great things about the Amazing Race is that it is an activity that can be hosted almost anywhere! Whether you're at a conference venue or you'd like to explore somewhere totally new – the Amazing Race can be tailored to suit your requirements. Some of our most popular Amazing Race locations include the Royal Botanic Gardens & the Rocks, Bondi Beach, Coogee & Manly.
One of our less physically active outdoor activities, the Survivor is great for groups who aren't wanting to overly exert themselves in the Summer heat. Survivor is great for groups wanting to get down on the beach or who would prefer to stay on solid ground in a shady park with plenty of grassed areas.
Too hot to leave the cooling breeze of the A/C? Our Escape is perfect for groups wanting to stay indoors yet still partake in a fun, challenging & friendly-competition style activity. We've specially designed a mobile version of the famous Escape the Room challenge to suit almost any office or conference venue. All we require is one room per team of 8-12 people.
Do you like Pina Colada's? Or simply enjoying a cocktail after a hard day's conferencing? Then we have the activity for you! Cool down with a delicious cocktail & enjoy a master class in the art of mixing drinks. Your group will make four delicious cocktails throughout the duration of the class, with the first three cocktails being preselected from our list of 13 cocktails.
For the fourth and final cocktail the competition begins! Your delegates will get shaking and stirring to design their very own unique cocktail. All ingredients and equipment will be readily available to get the creative juices mixing & flowing! Teams will be judged by our Cocktail Master on taste, the enticing name of their cocktail and a sales pitch which they must present in front of the group.
If you're after some good, old-fashioned competitive fun after a day of hard work – our Trivia Night is for you! With a mix of general knowledge, music & movies trivia along with some fun challenges thrown in between there is something in our Trivia Night for everyone!
Add a touch of glitz & glamour to your team dinner with our Casino Night activity! Roulette, Blackjack, Craps, Poker, Horse Racing, Race of the Aces & more! This activity is not just for seasoned gamblers as even novices can walk away with a big win. Our Casino Night is great for end of year celebrations or kicking off the start of the year with a bang!