When it comes to sports, teams have a specific number of players. A rugby league team has 13, a basketball team has 5 and a netball team has 7. But when it comes to the workplace there is no fixed rule when it comes to the ideal team size. Teams that are too small risk having a skills gap in an important area while teams that are too large risk a loss of productivity and collaboration.
The size question is one that has been asked since the 1800's, when French agricultural engineer Maximillian Ringelmann performed a tug of war style experiment and discovered that individual members of a group became increasingly less productive as the size of their group increased. In the seventies, Ingham et al coined the phrase "social loafing" for the phenomenon in the workplace where the more people there are, the more a person can get away with and the less work they have to do.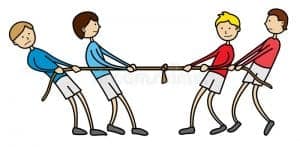 So, how can you avoid the Ringelmann Effect or Social Loafing in your organisation? And is there an ideal team size for your workplace?
Of course, there isn't a one team size fits all number that will suit every organisation. However, in the latest edition of micenet Lynne Schinella agrees that small teams are better than large. "Flight Centre allows no more than seven in a team, and Jeff Bezos from Amazon says unless a team can be fed with two pizzas, the team is too large," Lynne Schinella.
Here at Pinnacle when it comes to team sizes in our team building programs we agree that smaller teams work best. Usually we try and keep our team sizes around the 7-person mark, however anywhere between 6 – 10 is ideal. By keeping team sizes within this range we find this provides the best environment for all members of the team to contribute and have their creativity, ideas, energy & experience flourish.